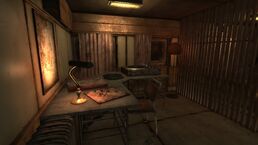 The Recreational Area is a 2-door room that the player may encounter in the upper-deck.
Interior
Edit
The Recreational Area is a spacious room that is split up by two wooden dividers. It contains two doorways. In between the two doorways is a bookcase. The words RECREATIONAL AREA is painted out in large white letters on the wall of the room.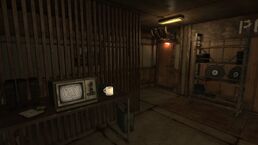 Curtained windows line one wall of the room, and a large sofa is propped against a wooden divider in the center of the room. Facing the sofa is a small retro television, which, when interacted with, will activate and play static. (The noise it generates will attract the monster, making it a good distraction).
Behind the sofa is a desk, which the player cannot hide under. On it is a desk lamp, a record player, and an unfinished game of Snakes and Ladders. Beside the desk is a chair, and a large lamp.
The Recreational Area can spawn Mission Items.
Glowsticks, smashables, egg timers, radios, and lighters may also spawn around the room, around the aforementioned places.